Craig Davis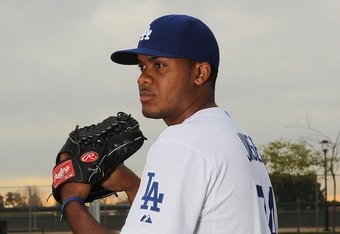 1. Kenley Jansen
hasn't allowed a run in spring training.
Analysis:
He is likely the best pitcher in the Dodgers' bullpen. If Jonathan Broxton struggles again this year (he gave up four runs in an appearance recently), don't be surprised if they give the closer job to Jansen over Hong-Chih Kuo, who is more brittle than Jansen.  In deeper leagues, he is one of the best middle relievers to own.
2. Coco Crisp had three hits on Saturday, including his second spring training home run on Friday.  He is batting .478 in spring training.
Analysis:
It's good to know that his DUI arrest doesn't appear to be a distraction for him as he goes about his preparation for the season. Draft him as you normally would.
3. Mike Morse his hit fourth spring training home run on Friday.  He is batting .480.
Analysis:
The LF job is up for grabs in Washington and even though Rick Ankiel and Roger Bernardina were ahead of Morse entering spring training there is no reason that he can't pass them and get a chance at playing most days in April. He showed plenty of power in last year's audition too.  He is a good last round pick in mixed leagues – you can always cut him if he doesn't win the job.
4. Curtis Granderson is batting .348 in spring training.
Analysis:
I don't expect him to suddenly solve his problems vs lefties this year but we do expect Granderson so settle in during his second season in New York and be a more productive player. Expect some improvement across the board from him.
5. Jacoby Ellsbury has been mostly batting leadoff this spring and has been hitting .364.
Analysis:
The Red Sox batting order hasn't been determined but Ellsbury is doing his part to keep the job as leadoff hitter. There is still a chance that he could bat ninth though.  As their leadoff hitter he is a third round mixed league pick.  As their number nine hitter he should drop at least a round.
6. Craig Kimbrel threw a scoreless inning on Friday.
Analysis:
He had a rough start to spring training but he looked a lot better today. He is still the leading candidate to close for Atlanta but he hasn't secured the job.  If you draft him, consider adding Venters in the late rounds for insurance.
7. Esmil Rogers is the favorite for the final rotation spot in Colorado.
Analysis:
He would have a few weeks to prove he should keep the spot over veterans John Maine and Aaron Cook. He isn't worth drafting in mixed leagues but NL-Only owners can use a pick on him.
8. Brian Roberts' back injury is not as severe as the one he suffered through last season.
Analysis:
I'm still concerned. It's a back injury and for Roberts that is a big red flag. Don't project more than 500 at-bats until we see some good news.  I would just let someone else deal with Roberts and his back this season.  There are plenty of mid-round 2B options.
9. Josh Outman allowed four runs over three innings on Friday.
Analysis:
He is pitching his way out of the final rotation spot this month. Look for Brandon McCarthy to get the job, with Rich Harden as a possibility too.  I don't like any of them as mixed league picks.  Let them all start the year on the waiver wire and prove themselves first.
10. Aaron Cook will miss a month with a broken finger because he slammed a door and hurt himself today.
Analysis:
Nothing has been going well for Cook this spring. He showed up to camp out of shape and wasn't likely to start the season in the rotation anyways. He isn't worth drafting outside of NL-Only leagues.  Even there, he's just a late-round selection.
11. Jorge De La Rosa will miss one start due to tightness in his lat area.
Analysis:
He is scheduled to start again on March 18th. If that happens then he should be fine for the start of the season but keep an eye on this injury because lat injuries are hard to shake.
12. Pitching in the fifth inning on Thursday, Joel Hanrahan allowed four runs in an inning of work.
Analysis:
His spring training is 12.27, which is actually slightly better than Evan Meek. I don't expect Hanrahan to lose the closer job in spring training but his shaky history, poor spring and poor surrounding lineup makes him a weak closer option.
13. After going 3-4 with a home run yesterday, Gordon Beckham is batting .476 in spring training.
Analysis:
He might be ready to realize his potential as an outstanding young talent after a down year in 2010. Don't pay for elite production but he should be able to produce solid totals as the White Sox second hitter.
14. Ian Stewart might miss opening day due to his MCL strain, which has kept him out of all March games.
Analysis:
If he isn't ready to start the season the club will use Ty Wigginton at 3B for the first two weeks. That would make Wigginton worth owning on a short term basis in most leagues.  With a weak 3B crop this season how about using a final round pick on Wigginton and hoping that he can take the 3B job and run with it in Colorado or that Todd Helton will be hurt by the time Stewart gets back?
15. Kyle McClellan allowed one run over four innings today.
Analysis:
He has a 1.29 spring training ERA and is doing his part to convince the Cardinals that they don't need to go out of the organization to fill Adam Wainwright's rotation spot. I like McClellan as a final round mixed league pick.  The Cardinals have had good success with starting pitchers and his skills were good in the bullpen.  Plenty to like here in my opinion.
16. Daisuke Matsuzaka gave up five runs in 3 2/3 innings today.
Analysis:
Word is that Dice-K's velocity is down this spring. He needs to get it up quickly because his control is also poor. Mixed league owners should stay away.  I would much rather take a starter with potential like McClellan or James McDonald or Mike Minor or Kyle Drabek etc. than use a pick on Dice-K.
17. Brett Lawrie homered twice this week and has a batting average above .400Analysis:
Would the team have the guts to start his season with the big club and put Jose Bautista in RF on opening day? We doubt it but can't rule it out. Expect to see Lawrie by mid-season at the latest.  He has been the most popular story in Jays camp.
18. Joe Nathan threw a scoreless inning today and hasn't allowed a run in spring training.
Analysis:
Everything has gone according to plan for Nathan this spring and there is no reason to expect that he won't be the team's closer on opening day.  I wouldn't project 40 saves but I will project 30-35 for now.
19. Rangers GM Jon Daniels believes that the team is "better off" with Neftali Feliz as a starting pitcher.
Analysis:
It sounds to me like the Rangers are trying to convince Feliz that he wants to be a starter. They want his heart to be in the switch. This situation should be settled in the next week and a half and really could go either way at this point.  If he was definitely closing then I believe that he is a top three closer.  But, I can't say that right now so I would leave him for someone else to invest in.  I really like Feliz as a pitcher but I can't justify him in the first ten rounds as an unproven starter so I will likely leave him and draft other pitchers.
20. Jon Garland's strained oblique muscle will cause him to miss 4-6 weeks.
Analysis:
That means that he likely won't pitch in a major league game in April and maybe not for the first week in May. It will take him time to get built up again once he is ready to pitch.  He should start the season on waivers in all mixed leagues and even shallow NL-Only leagues.
21. Twins 1B Justin Morneau did not experience post-concussion symptoms after his first game action this week.
Analysis:
Great news for Morneau owners and even though I'm not ready to predict 550 at-bats just yet I am ready to predict 525 and I'm ready to bump up that projection by next weekend if he has a good week.  He is a risky pick but he also a chance to get a top ten 1B on the cheap.
22. Derek Holland looked dominant today in a 37 pitch outing. He threw only 7 balls, and racked up three punch outs on a sharp slider in three scoreless innings.
Analysis:
At the start of last season Derek Holland was a very highly regarded prospect in the Rangers stocked farm system. 2010 was a struggle for Holland, but potential has never been an issue. He's got a mid 90's fastball and above average secondary pitches. Maturity and consistency with his secondary pitches are the key for Holland to take the next step. Holland has a great chance to make the Rangers starting rotation as the fifth starter, has underrated strikeout potential and pitches for one of the best offenses in baseball.